'Shiver' by Maggie Stiefvater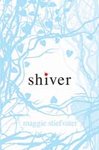 Have you ever felt like you didn't belong in the life you have? Shiver, by Maggie Stiefvater, is a book about two characters that feel this way. That is until they finally meet after years and years of admiring each other from a distance.
Grace is a girl who is barely noticed by her parents, and seen as a freak at school. Sam is half wolf, half human; changing forms between the hot and cold climates. After Sam rescued Grace in the last moments of her life, Grace was forever watching the wolves in the woods, waiting to see her yellowed-eyed wolf once again.
Sam hated every moment of being a wolf. He was forever wishing to be completely human again, to be able to talk to Grace, instead of forever watching and admiring her from a distance.
Finally their long lasting wishes of meeting each other came true. Although finally being in each other's arms was great, completely in love, they face problem after problem, trying to keep Sam human before he is permanently a wolf, while Grace fights to keep him.
This story is a great paranormal romance that starts off quite differently; though after reading more and learning what it is all about, it becomes very hard to put down, just wanting to know what happens next. I look forward to reading the sequel Linger.
Sasha, Year 9.
———————————————————-
"I could have screamed, but I didn't. I could have fought, but I didn't. I just lay there and let it happen, watching the winter-white sky go grey above me."
The book 'Shiver' was written by Maggie Stiefvater. I found it very interesting and an enjoyable read. The story of 'Shiver' starts off on a cold winter's day in Mercy Falls, Minnesota, in the dark cold forest where a girl called Grace was surrounded by a pack of wolves. Grace is a girl who lives in Mercy Falls and loves the wolves that live in the forest behind her house. Sam is a werewolf and for a short time of the year he is human. The story 'Shiver' is about Grace and Sam and how they will do anything to be with each other. I have enjoyed the book 'Shiver' because the writer has written the novel in the perspective of the two main characters Grace and Sam.
I would recommend the book 'Shiver' to teens who enjoy reading romantic fantasy sci-fi novel.
Lauren, Year 9.
———————————————————–
"I'd found heaven and grabbed it as tightly as I could, but it was unravelling, an insubstantial thread sliding between my fingers, too fine to hold." – 'Shiver' by Maggie Stiefvater
The novel Shiver is set at Mercy Falls, where for years, Grace Brisbane has watched the wolves behind her house. But not just your typical wolves – werewolves. Grace has been fascinated with these wolves ever since she had been attacked by one of them. Sam, a yellow-eyed wolf with grey hair, seems to be someone she couldn't live without.
Sam has been two different beings: werewolf in the winter, and a few dear moments of being a human in summer…well until the cold shifts him back. This young couple have always had a deep connection. But as winter is near, Sam has to fight to stay human or he may just lose Grace.
I really enjoyed the novel 'Shiver' and found it to be a good read as the werewolf concept was different to any others that I have read and I found that really unique. I have also enjoyed reading about Grace and Sam's relationship. I was really engaged with this novel and couldn't stop reading it. I enjoyed Maggie Stiefvater's writing style in this book. The plot progressed really well with exciting plot twists to keep me glued to the novel. The cliffhanger at the end was very well written, as I couldn't wait to read the rest of the trilogy.
I recommend this novel, Shiver to teens and young adults, mainly females who are interested in Fantasy and Romance as there are some parts of the book about 'young love.' This book is a great read and I rate it a 4/5.
Dana, Year 9
 —————————————————-
Sam and Grace seem like two average people but they are so much more than that. They both have interesting stories from childhood and have unique transformations throughout the book.
Grace "the cold" is a wolf-loving teenage girl whose house backs onto a forest full of wolves, but the wolves are only seen in winter. Why is that?
Sam "the heat" is (or at least was) an average teenage boy but he is more than that. He transforms into Grace's favourite thing, a WOLF!
I enjoyed this book because I enjoy the supernatural/werewolf/vampire movies and books. It is a romantic novel which you just can't put down.
Jade, Year 9
—————————————————-
Grace has spent years in the woods watching the wolves from her tyre swing, all her life, since the wolves she has been fascinated by had attacked her. When she was first attacked as a young child, one wolf stood out among the rest, one wolf with yellow eyes. What Grace didn't know was when she was younger, the wolves who attacked her were werewolves.
Sam on the other hand lived two lives, one as a wolf and one as a human. Sam is a yellow-eyed werewolf. When Sam was a wolf and his pack had attacked Grace, he fell in love with her.
I recommend this book for young adults because of the fantasy themes.
Jasmine, Year 9
———————————————-
When Grace was a little girl playing on her tyre swing in the cold winter days, she was attacked by wolves, but not just any wolves, werewolves. One wolf with bright yellow eyes stood back, and then saved her. From that day on that was Grace's wolf.
The characters in this book are very intriguing and the plot keeps you wanting to read more. I found it to be a great read for someone who finds it hard to stay interested in a book. Grace's life is complicated and she has issues with friends, family, society and herself. This can relate to lots of teens and reading about a character dealing with these things can be quite comforting. Grace's wolf, Sam, has a hard life and is torn between two worlds. He might just have to make the hardest decision of his life: to be human or to be a wolf.
Shiver is a wonderful book full of romance, risk-taking and adventure. If Grace and Sam want to be together they are going to have to fight for it. Luckily neither of them gives up without a fight. I would highly recommend reading this book because I enjoyed it thoroughly. Monet, Year 9