Narrative – 1st person
Personal Narrative
A personal narrative is written from the viewpoint of the person telling the story. We say that the story is written in the 'first person'. First person narrative is subjective – it shows the feelings and opinions of the author and allows a unique closeness between the writer and reader, so that 'readers can see inside the author's head'.
An autobiography is the story of a person's life told by that person. It has been said that an autobiography is a window into the life of another person. Helen Keller spoke of a 'life marked off on the soul by feelings, not by dates.'
A memoir is a piece of autobiographical writing which is shorter than an autobiography. It tries to capture certain events or incidents in the person's life, rather than their whole life.
Tips for writing a personal narrative:
You already know about the events that have happened in your life. Your job is to make your story interesting!
One of the keys to writing is reading. Read as much as you can and your vocabulary and sentence structure will improve. Reading is also a great idea generator. Begin a scrapbook where you journal and collect ideas, clippings etc. When you are ready to begin writing, you may find it useful to surround yourself with photographs of scenes, mood music and useful quotes on post-it notes from your journal to help you set the scene of the story and form the characters.
Planning a 1st person narrative:
Decide on an incident or experience as a focal point of the story
Who will be the narrator? Do they have a bias or point of view, or are they objective?
Who is the main character? You may need an additional one or two other characters.
Setting – Where does the story take place?
Decide on a plot structure. What are the main events, points along the way, the climax of the story, and its resolution? You may need to brainstorm and/or plot what happens on a graph to keep your story on track.
Structure of 1st Person Narrative
A narrative text usually contains the following three parts:
Orientation – start in the middle of the action, involving the main character from the start.
Complication – where conflict, tension or a problem is created.
Resolution – the problem is resolved, sometimes with a twist.
Language and Style
Write in the first person – 'I…'
Choose an event with action or conflict within it.
Jump right in. You may use a prompt event or piece of conversation to start.
Keep the grammatical tense consistent throughout (either present – happening now, or past tense – has happened)
Use a conversational style of language rather than formal language.
Develop the middle of the story with relevant details to develop the plot and using an authentic 'voice' for the narrator.
Use dialogue to help show reactions between people.
Use descriptive and subjective words to show feeling and opinion. Brainstorm words and feelings on a separate piece of paper to give you ideas as you write. Write the noun (e.g. 'building') followed by adjectives which describe it ('weathered', 'dilapidated'…)
SHOW, DON'T TELL.
Pull the story together in a resolution, maybe adding a little twist or reaction to end the story.
That's the first draft. Now, edit and re-edit your story until it achieves its own flow.
For the length of narratives written at school and for the QCST, it is recommended that the action of the story happens within no more than a ten minute time frame.
Pieces of Personal Narrative writing:
Look at the following examples of personal narrative writing.
The beginning of the autobiography 'Ugly', by Constance Briscoe, is written very sparely, yet it shocks us by what it doesn't say.
NOTE: This blog format does not allow indentation at the beginning of a new paragraph or new speaker, so a line has been left in place of a paragraph break.
———————————
'Do your parents know you're here?' asked the lady at Social Services.
'No,' I said, 'but I want to know about children's homes.' I had to stand on my toes to see over the reception desk.
'How old are you?' asked the lady.
'Eleven.'
'Things bad at home, are they?'
'Yes, I said. 'What do I have to do to book myself in?'
——————————–
In the following video, author Alice Pung reads from her autobiography 'Unpolished Gem'. http://www.blackincbooks.com/blackitv/unpolished-gem-alice-pung
Alice had already decided that her story should not begin in the 'killing fields' of Cambodia, which her parents had left just before her birth. She wanted to portray the humour of everyday life, rather than a stereotypical 'poor immigrant makes good' story. Read how she begins her story in this extract from 'Unpolished Gem':
http://alicepung.com/blog/wp-content/uploads/2007/10/excerpt.pdf
Adeline Yen Mah's voice reflects the small child she was in the following passage of 'Chinese Cinderella' (p.153, 154):
'Adeline! Your aunt is here to take you out of school! She is sailing to Hong Kong next week and wants to take you with her!'
My heart gave a giant lurch as her words sank in. For a dazzling moment, I knew with every fibre of my being that somehow, against all odds, Aunt Baba had come to my rescue! The whole of me was vibrating with joy and I ran as fast as I could towards the visitors' lounge, followed by Mother Marie.
I stopped abruptly at the threshold. In front of me was a small, mousy, foreign woman with dark brown hair, dressed in a Western suit. There was no one else.
'Adeline!' she smiled and greeted me in English. 'How big you've grown! Do you remember me? I am Aunt Reine Schilling, your Niang's older sister.'
I smiled back shyly, saying nothing. A black wave of disappointment swept over me.
'Come here! Don't be afraid! The last time we met you were still in kindergarten…No wonder you don't remember!'
Something came over me. Great waves of anguish swelled up. I tried again and again to greet her, to be polite and say how grateful I was that she had come. Words choked me as I struggled, silently cursing my poor English. Then, to my great embarrassment, in front of Mother Marie and this stranger, I started to weep.
Read the following personal narratives. Study how the teenage author begins, builds and then brings her story to a conclusion. This needs to be achieved for us to gain a feeling of development and then completion at the end of the story.
'The Climb' by Amy: http://www.thewritesource.com/studentmodels/wi-theclimb.htm
Extract from 'Growing up Asian in Australia'.
http://alicepung.com/blog/wp-content/uploads/2008/06/growingupasianinaustralia.pdf
Alice Pung speaks about the background to 'Unpolished Gem':
http://alicepung.com/blog/wp-content/uploads/2009/08/interview_with_alice_pung.pdf
Autobiographies and Memoirs:
Here are numerous autobiographies in the Aquinas Library. Here are a few which you may be interested in reading. See the Library staff for other titles: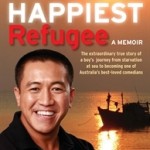 'The Happiest Refugee: A memoir" by Anh Do 792.702 DO
I must be the only person in Australia who is not familiar with Anh Do, which a few visits to YouTube will no doubt fix…nevertheless his memoir was both tragic and funny, humble and most of all uplifting. For any reader who has encountered refugees before, many parts of his story will sound familiar: the harrowing sea voyage, his encounter with racist attitudes in Australia and the family credo to succeed. But pervading it all is Anh's luminescent smile, his family's 'can do' attitude, helped …moreI must be the only person in Australia who is not familiar with Anh Do, which a few visits to YouTube will no doubt fix…nevertheless his memoir was both tragic and funny, humble and most of all uplifting. For any reader who has encountered refugees before, many parts of his story will sound familiar: the harrowing sea voyage, his encounter with racist attitudes in Australia and the family credo to succeed. But pervading it all is Anh's luminescent smile, his family's 'can do' attitude, helped along by the kindness of strangers wherever they go. It's a heart-warming story. Most impressive is the family's attitude to life – to not just survive, but to achieve personal happiness by helping others and by doing whatever you can do best.
'The Happiest Refugee' will no doubt be seen as essential reading as part of the Asian literature of new National Curriculum; it has so much to offer. It's highly readable for both teens and adults, filling in a gap of our migrant history about which teenagers may know little. Mrs O.
'Chinese Cinderella: The secret story of an unwanted daughter' by Adeline Yen Mah 305.48 MAH
When Adeline Yen Mah's mother died giving birth to her, the family considered Adeline bad luck and she was made to feel unwanted all her life. 'Chinese Cinderella' is the true story of her struggle for acceptance and her triumph against almost overwhelming odds to achieve success.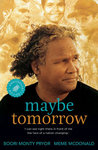 'Maybe tomorrow' by Boori Pryor & Meme McDonald 305.8994 PRY
'The other day this little one asked me, "When did you start being an Aborigine, and how old were you when you started that?" Like it was a career path or something. I just cracked up laughing.' Boori Monty Pryor's career path has taken him from the Aboriginal fringe camps of his birth to the runway, the catwalk, the bask…
'A Man called Possum' by David Harris 920.994 HAR
'Boy: Tales of Childhood' by Roald Dahl 823.092 DAH
Roald Dahl recounts some of the remarkable things that happened to him as a boy and as a young man. "I have never been able to get them out of my mind," says Dahl. "Some are funny, some are painful, some are unpleasant. I suppose that is why I have always remembered them so vividly. All are true".
'Unpolished Gem' by Alice Pung 305.895 PUN  'This story does not begin on a boat.' Pung's memoir combines scenes of her life growing up in suburban Melbourne with the inherited stories of the women in her family – stories of survival and heartbreak. Original and brave, this is a girl's own story which captures the experience of Asian immigrants to Australia.
'Born to Run' by Cathy Freeman 796.42 FRE
Cathy Freeman's life story, written for younger readers.
'A Fortunate Life' by A. B Facey 994.104 FAC
The remarkable story of an 'ordinary' man. Bert Facey's childhood ended when he was eight years old. That was when his grandmother had to send him away to work for his keep. Bert grew up tough in the vast, wild outback of Western Australia. He lived to eighty-seven, and wrote down his extraordinary story for his grandchildren. In spite of its difficulties and sufferings, he always believed he had had 'a fortunate life'.
For older readers:
'The Color of Water' by James McBride 974 MCB
As a boy in Brooklyn, James McBride knew his mother was different. But when he asked her about it, she'd simply say, 'I'm light-skinned.' Later he wondered if he was different too and asked his mother if he was black or white. 'You're a human being,' she snapped. 'Educate yourself or you'll be a nobody!' And when James asked what colour God was, she said, 'God is the color of water'…
'Ugly' by Constance Briscoe 362.76 BRI Constance's mother systematically abused her daughter, both physically and emotionally, throughout her childhood. Regularly beaten and starved, the girl was so desperate she took herself off to Social Services and tried to get taken into care. When that failed, she swallowed bleach 'because it kills all known germs and my mother always told me I was a germ'. When Constance was thirteen, her mother simply moved out, leaving her daughter to fend for herself; there was no gas, no electricity, and no food. But somehow Constance found the courage to survive her terrible start in life. This is her heart-rendering — and ultimately triumphant — story.
'The Boy in the Green Suit' by Robert Hillman 823 HIL
It is 1965. Robert's mother has left, his father doesn't understand him and he has a dead end job selling ladies' slippers. So he begins his search for paradise, dressed in a green suit, his suitcase full of books and a typewriter. Boarding a ship bound for Ceylon, he has no return ticket and no money.
Novels in First Person Narrative style. Many novels are written in 1st person narrative style. Here are a few recent titles to get you started: (Some of these titles may be for older readers.)
'Liar' by Justine Larbalestier F LAR
Micah will freely admit that she's a compulsive liar, but that may be the one honest thing she'll ever tell you. Over the years she's duped her classmates, her teachers, and even her parents, and she's always managed to stay one step ahead of her lies. That is, until her boyfriend dies under brutal circumstances and her dishonesty begins to catch up with her. But is it possible to tell the truth when lying comes as naturally as breathing? Taking readers deep into the psyche of a young woman who will say just about anything to convince them—and herself—that she's finally come clean, Liar is a bone-chilling thriller that will have readers see-sawing between truths and lies right up to the end. Honestly.
'Henry Hoey Hobson' by Christine Bongers F BON
Twelve-year-old Henry Hoey Hobson arrives at his sixth school, Our Lady of Perpetual Succour, to discover that he is the only boy in Year Seven. Friendless, fatherless, and non-Catholic, Henry is not only a Perpetual Sucker, but a bloodsucker, according to his classmates. When he's caught moving a coffin into the creepy house next door, it drives a stake through the heart of his hopes of fitting in. His only chance to fight back is the school swimming carnival—sink-or-swim time in the treacherous waters of Year Seven.
'New Gold Mountain: The Diary of Shu Cheong' by Christopher W. Cheng F CHE
Shu Cheong works on the goldfields at Lambing Flat. It is 1860, and the white miners' behaviour towards the Chinese is becoming more and more violent. Shu Cheong witnesses increasing hatred and brutality towards his people, but also learns the value of friendship. This story is written in first person in the form of a diary.
'Refugee: The Diary of Ali Ismail' by Alan Sunderland F SUN
Ali Ismail is a refugee. In Afghanistan, the Taliban have murdered his father, and so Ali's uncle smuggles him out of the country to safety – to Australia. But instead of finding freedom, Ali is taken to a detention centre in the outback. For twelve long months he waits to find out if he will be allowed to stay. This story is written in first person in the form of a diary.
'Beautiful Malice' by Rebecca James F JAM
'Truth or dare?' she asks. I hesitate. I have so many secrets, so many things I don't want to reveal, but this is only a game, only a bit of fun. 'Truth,' I say finally. .. 'Truth,' Alice says slowly, drawing out the vowel sound as if she's savouring the word. 'Are you sure? Are you sure you can be completely honest?' 'I think so. Try me.' 'Okay.' And then she looks at me curiously. 'So. Were you glad, deep down? Were you glad to be rid of her? Your perfect sister? Were you secretly glad when she was killed?'
'Stolen' by Lucy Christopher F CHR
Gemma, 16, is on layover at Bangkok Airport, en route with her parents to a vacation in Vietnam. She steps away for just a second, to get a cup of coffee. Ty–rugged, tan, too old, oddly familiar–pays for Gemma's drink. And drugs it. They talk. Their hands touch. And before Gemma knows what's happening, Ty takes her. Steals her away. The unknowing object of a long obsession, Gemma has been kidnapped by her stalker and brought to the desolate Australian Outback. STOLEN is her gripping story of survival, of how she has to come to terms with her living nightmare–or die trying to fight it.
'Shiver' by Maggie Stiefvater F STI
For years, Grace has watched the wolves in the woods behind her house. One yellow-eyed wolf her wolf is a chilling presence she can't seem to live without. Meanwhile, Sam has lived two lives: in winter, the frozen woods, the protection of the pack, and the silent company of a fearless girl; and in summer, a few precious months of being human . . . until the cold makes him shift back again. Now, Grace meets a yellow-eyed boy whose familiarity takes her breath away. It's her wolf. It has to be. But as winter nears, Sam must fi ght to stay human or risk losing himself, and Grace, forever.
'In the Sea there are crocodiles' by Fabio Geda F GED
It's amazing to think that while I was working, socialising, carrying on with my everyday life, a teenager on the other side of the world was fighting desperately for survival, living through such dislocation and fear.
For teenagers, this is a life changing story which could shake any complacency or self-interest and change their views of refugees forever.
Although translations can sound a bit 'clunky', the boy's voice shines through. Highly recommended for middle teens.
'The Absolutely True Diary of a Part Time Indian' by Sherman Alexie F ALE
In his first book for young adults, bestselling author Sherman Alexie tells the story of Junior, a budding cartoonist who leaves his school on the Spokane Indian Reservation to attend an all-white high school. This heartbreaking, funny, and beautifully written tale, coupled with poignant drawings that reflect the character's art, is based on the author's own experience and chronicles the contemporary adolescence of one Native American boy as he attempts to break away from the life he seems destined to live.
'Have you seen Ally Queen' by Deb Fitzpatrick F FIT
Ally Queen, is fifteen, flat-chested and totally trapped in a tiny coastal town where the killer pythons are stale and there are only three types of people: bogans, surfies and spinach-munching hippies. How could her parents have ever thought moving to Melros was a good idea?
With her best friend miles away, and deep-and-meaningfuls only as long as a text message, it's a bad time for Ally to be having a personality crisis. She's torn between who she is and who she wants to be. No wonder she doesn't have a boyfriend – unless you count the irritating guy on the school bus who seems to be keen on her.
'Prisoner of the Inquisition' by Theresa Breslin F BRE
Zarita is used to basking in the pampered lifestyle being the only daughter of the town magistrate affords; she is free to roam the town as she likes, consort with the son of a nobleman and spend her days studying the arts. Saulo's family have fallen on hard times, and when his father is hanged for an assault on Zarita he did not commit and Saulo is hauled off to be a slave at sea, Saulo swears revenge. But when Zarita's mother dies in childbirth, and the formidable and frightening Inquisition arrives in the area, a curtain of suspicion and brutality comes down on her old life for good. Saulo may believe that Zarita is his sworn enemy, but in a time when the whole of Spain is in turmoil, are him and Zarita each other's only hope of survival?
'The Apothecary' by Maile Meloy F MEL
It's 1952 and the Scott family has just moved from Los Angeles to London. Here, fourteen-year-old Janie meets a mysterious apothecary and his son, Benjamin Burrows – a fascinating boy who's not afraid to stand up to authority and dreams of becoming a spy. When Benjamin's father is kidnapped, Janie and Benjamin must uncover the secrets of the apothecary's sacred book, the Pharmacopoeia, in order to find him, all while keeping it out of the hands of their enemies – Russian spies in possession of nuclear weapons. Discovering and testing potions they never believed could exist, Janie and Benjamin embark on a dangerous race to save the apothecary and prevent impending disaster.
'Marked' by P.C. Cast and Kristin Cast (House of Night #1) F CAS
The House of Night series is set in a world very much like our own, except in 16-year-old Zoey Redbird's world, vampyres have always existed.  In this first book in the series, Zoey enters the House of Night, a school where, after having undergone the Change, she will train to become an adult vampire–that is, if she makes it through the Change.
'Alone' by James Phelan (Chasers #1) F PHE
Four Teenagers.  One Destroyed City. Thousands of Infected Predators.
Jesse is on a UN Youth Ambassadors camp in New York when his subway carriage is rocked by an explosion. Jesse and his three friends crawl out from the wreckage to discover a city in chaos.
Streets are deserted. Buildings are in ruins. Worse, the only other survivors seem to be infected with a virus that turns them into horrifying predators…
Outnumbered. No sign of life. Just them. And you… ALONE.