Feature Articles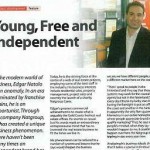 How to Write a Feature Article:
While the purpose of news articles is to give us the facts, feature articles dig deeper, delving into the topic in more detail, exploring the how and why, providing background information, or looking at issues and trends.
Even though topics covered in feature articles are newsworthy, the focus of the article is mostly on the human interest side of the story, as well as being influenced by the author's experience, giving the writer's personal slant or opinion of the topic.
A good feature story requires skills from the author to make it appealing and persuasive. Novice authors sometimes leave out the most important preparation of all: background reading.
Read and watch as many different types of feature stories as you can, especially the type of feature article you are writing. There are lots of links below to help you, as well as examples of feature articles.
Further Reading & Viewing:
How to Write a Feature Article (film clip)
Here are some more great articles about feature article writing:
How to write a feature article (Leave out step 3)
You will also find it useful to look at the PERSUASIVE WRITING page on Aquinas Reads.
Feature articles online:
Sydney Morning Herald Good Weekend
The Guardian – Weekend
Use tab on lefthand side for Features. Recent editions are listed below that.
Pieces of writing about your topic (not necessarily feature articles):
What's the point of school uniforms?
How to curb the costs in Schoolies Week
Gold Coast Schoolies celebrations costs public $2 million
Not the average Schoolies trip
Teen travellers close the cost gap
Fun and games at the Year 12 Formal
Formal costs are no cause for celebration
Examples of Feature Articles: The Message of Music
Protest music: steel in the hour of chaos
Where is the protest music for 2010?
Pete Seeger: Pioneer of protest
Others:
A picture of loneliness: you are looking at the last male northern white rhino
Waiting for the New Wave: Aida Edemariam talks to Tim Winton about his youth, Australia and why writing is like surfing
Tim Winton Telling Tales (What is the bias/angle evident in this article?)
The School That John Built (John Marsden)
All Aboard the Harry Potter Promotional Express