Australian identity
How has Australia changed in the last 50 years, or even in the last 20? Here is a summary of six major shifts in the Australian identity, from traditional to 21st century Australia.
Stereotypes in Australian Literature – a selection:
The following bibliography is a selective list of poems, speeches, novels, short stories and songs which show stereotypes, or the breaking of stereotypes, of Australian life. Where these resources are available in the Aquinas Library, a Dewey number is given. For online resources, the link is given. ** Reviews from Goodreads.com
For movies, see the separate page for Australian films on this blog.
There is also a great list of famous Australian films on Wikipedia which you might find useful. Click here for the link.
THE LAND:
My Country by Dorothea Mackellar (poem)
Australia by A.D.Hope (poem)
South of My Days by Judith Wright (poem)
Drought Year by Judith Wright (poem)
Australia by Ania Walwicz (freeform prose poem) (at bottom of page below My Country)
Downunder (song)
The Silent Shearer by A.B. Paterson (poem)
Defying stoicism – Australian poetry
Representations of Australian identity in poetry
LIFE IN SMALL TOWNS AND THE BUSH (Colonial Period):
F GRE The Secret River by Kate Grenville
After a childhood of poverty and petty crime in the slums of London, William Thornhill is sentenced in 1806 to be transported to New South Wales for the terms of his natural life. With his wife Sal and children to tow, he arrives in a harsh land that feels at first like a death sentence. But his first glimpse of land for the taking awakens in him a desire he never had before: to own that land, no matter the cost to his soul.
F GRE Sarah Thornhill by Kate Grenville
Sarah Thornhill is the youngest child of William Thornhill, convict-turned-landowner on the Hawkesbury River. She grows up in the fine house her father is so proud of, a strong-willed young woman who's certain where her future lies. She's known Jack Langland since she was a child, and always loved him. But the past is waiting in ambush with its dark legacy. There's a secret in Sarah's family, a piece of the past kept hidden from the world and from her. A secret Jack can't live with. A secret that changes everything, for both of them.
The Drover's Wife by Henry Lawson – scroll 1/3rd way down page
The Tramp by Barbara Baynton (first published as The Chosen Vessel) – scroll down to last story
Also IN F AUS Australian Short Stories: a workshop for readers and writers p.29 – 33
Botany Bay (song)
F COU The Potato Factory by Bryce Courtenay
Ikey Solomon and his partner in crime, Mary Abacus, make the harsh journey from thriving nineteenth-century London to the convict settlement of Van Diemen's Land. In the backstreets and dives of Hobart Town, Mary builds The Potato Factory – a brewery, where she plans a new future. But her ambitions are threatened by Ikey's wife, Hannah, her old enemy. As each woman sets out to destroy the other, the families are brought to the edge of disaster.
F CRE Voicing the Dead by Gary Crew
You ask, 'Can the dead speak?' I answer, 'Is this blood that runs in my veins, or ink? I ask that you read me. I ask that you hear me. See me. Touch me. Others have, and tasted my blood.' So writes Jack Ireland, 14 year old English born survivor of the horrors of capture by head hunters. In this book the author revisits the astonishing story of nineteenth century teenager Jack Ireland who survived, and lived to fight back, through his 'never say die' determination and creativity.
LIFE IN SMALL TOWNS AND THE BUSH (Settlement):
F FRA My Brilliant Career by Miles Franklin 1901
This classic Australian novel was written by Miles Franklin, and details her life being born of the bush in Australia. A fantastic, well-written book with lively descriptions of a girl's life that can't be passed up by anybody who is drawn by good stories with captivating details.
F LIN Picnic at Hanging Rock by Joan Lindsay 1967
While Joan Lindsay's haunting Australian classic Picnic at Hanging Rock is a work of fiction, the story is often considered one of Australia's greatest mysteries. In 1900, a class of young women from an exclusive private school go on an excursion to the isolated Hanging Rock, deep in the Australian bush. The excursion ends in tragedy when three girls and a teacher mysteriously vanish after climbing the rock. Only one girl returns, with no memory of what has become of the others.
994.29 GUN We of the Never Never by Jeannie Gunn 1908
An Australian classic. Depicts the enduring hardships of life in the Australian outback and the battles against sexist and racial prejudices. (Read with Barra Creek or The Thornbirds)
LIFE IN SMALL TOWNS AND THE BUSH (Modern Period):
994.104 FAC A Fortunate Life by A.B.Facey
Albert Barnett Facey was born in 1894 in Maidstone, Victoria and grew up on the Kalgoorlie goldfields and in the wheat-belt of Western Australia. His father died before he was two and he was deserted by his mother soon afterwards. He was looked after by his grandmother until he was eight years old, when he went out to work. His many jobs included droving, hammering spikes on the railway line from Merredin to Wickepin and boxing in a travelling troupe. He was in the Eleventh Battalion at the Gallipoli landing; after the war, he became a farmer under the Soldier Settlement Scheme but was forced off the land during the Depression. He joined the tramways and was active in the Tramways Union. Facey, who had no formal education, taught himself to read and write. He made the first notes of his life soon after World War I, and filled notebooks with his accounts of his experiences. Finally, on his children's urging, he submitted the hand-written manuscript to the Fremantle Arts Centre Press. He died in 1982, nine months after A Fortunate Life had been published to wide acclaim.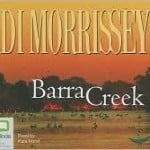 F MOR Barra Creek by Di Morrissey
An outback family saga that will knock your hat off. The Mitchell family has run a prosperous sheep farm for generations and the youngest daughter, Sally, has just turned 20. She…leads an indulged life…until she shocks her parents by becoming involved with an older man. Scandalised, they try to pack her off to England, but Sally doesn't make it. After a wild spree in Sydney she's cashed in her ticket and, hell bent on adventure, takes a job as a governess on a remote cattle station – Barra Creek – in the Gulf country of Cape York. Untamed and crocodile infested, it's a land of deserts, jungles and wide rivers. Then the great stations were run by men who were loners and women who had to cope or leave.  Decades later, in 2003, Sally learns a secret that will change many lives – including her own – and leave readers horrified on one hand, and smiling and crying on the other.
F LAW Bye, Beautiful by Julia Lawrinson (also Racism)
Sandy does not know if she would fit in anywhere, but she feels like a complete outsider in this hot, wheatbelt town where her policeman father has just been transferred. And then she meets Billy, the part-Aboriginal mechanic's apprentice and town heart-throb. Sandy's feelings for him are overwhelming her, but she is about to find out that her greatest rival is her own sister, the alluring, confident Marianne. Set in Western Australia in the 1960's, this is a story of secrets and heartbreak, of families and changing times.
F SIL Jasper Jones by Craig Silvey (also Racism)
Late on a hot summer night in 1965, Charlie Bucktin, a precocious and bookish boy of thirteen, is startled by an urgent knock on the window of his sleep-out. His visitor is Jasper Jones, an outcast in the regional mining town of Corrigan. Rebellious, mixed-race and solitary, Jasper is a distant figure of danger and intrigue for Charlie. So when Jasper begs for his help, Charlie eagerly steals into the night by his side, terribly afraid but desperate to impress. Jasper takes him to his secret glade in the bush, and it's here that Charlie bears witness to Jasper's horrible discovery. With his secret like a brick in his belly, Charlie is pushed and pulled by a town closing in on itself in fear and suspicion as he locks horns with his tempestuous mother; falls nervously in love and battles to keep a lid on his zealous best friend, Jeffrey Lu. And in vainly attempting to restore the parts that have been shaken loose, Charlie learns to discern the truth from the myth, and why white lies creep like a curse. In the simmering summer where everything changes, Charlie learns why the truth of things is so hard to know, and even harder to hold in his heart.
F MAR Iron Cradles by Carol Mara
Although in a way the subject is the story of a year in the life of 2 year old polio victim, and maybe not everyone wants to know about life on an Australian farm in the 50s, the book is so much more than either.
821 HER By the River by Steven Herrick (verse novel)
Through rich, vivid poetry, Harry Hodby brings readers into his remote Australian town. He documents the mundane and unique qualities of daily life and the quirkiness of the townspeople, and gives a lively sense of locale. A likable, perceptive, sensitive teen, he is intuitive beyond his years. His mother died when he was seven and now he shares his life with an attentive father and a brother, Keith, one year his junior. His father has built a nurturing home for the boys, though some wagging tongues are quick to criticize. Although there are adventures, Harry finds the town boring and yearns to escape for a time some day, but he worries that too many people have left and never returned. He also mourns for his friend Linda, who was swept away when the river on which the town is situated swelled and overflowed its banks. He secretly tends a shrine created in her honor, only to discover later that he is not alone in his admiration of her. This is a beautifully and sensitively written novel featuring a caring, intelligent protagonist.
The Fine Colour of Rust by P.A. O'Reilly F ORE    Single mother and dreamer Loretta Boskovic lives in Gunapan, a town lost in the scrubby Australian bush. She has fantasies about dumping her two kids in the orphanage and riding off on a Harley with her dream lover. Her best pal is a crusty old junk man called Norm. She needs a lawnmower; he gives her two goats called Terror and Panic.
Loretta's a self-dubbed 'old scrag', but she's got a big heart and a strong sense of injustice. So when the government threatens to close down Gunapan's primary school, and there's a whiff of corruption wafting through the corridors of the local council, Loretta stirs into action. She may be short of money, influence and a fully functioning car, but she has loyal friends. Together they can organise protests, supermarket sausage sizzles, a tour of the abattoir — whatever it takes to hold on to the scrap of world that is home.
F BON Dust by Christine Bongers
Twelve-year-old Cecilia Maria was named after saints and martyrs to give her something to live up to.
"Over my dead body," she vows.
In the blinding heat of 1970s Queensland, she battles six brothers on her side of the fence, and the despised Kapernicky girls, lurking on the other side of the barbed wire. Secrets are buried deep, only to surface decades later when Cecilia drags her own reluctant teenagers back home to dance on a grave and track down some ghosts. Warm but tough-minded, "Dust" glitters with a rare and subtle wit, illuminating the shadows that hang over from childhood and finding beauty in unexpected places.
A Town Like Alice by Neville Shute (GCCC Libraries)
The Thornbirds by Colleen McCullough (GCCC Libraries)
The Widower in the Country – Les Murray (poem)
Driving Through Sawmill Towns – Les Murray (poem)
URBAN LIFE (Modern Period):
The Forgotten People – a speech by Robert Menzies on 22 May, 1942.
In the Park – by Gwen Harwood (poem)
Suburban Sonnet – by Gwen Harwood (poem)
On Home Beaches by Les A. Murray (poem)
F HAR Strike! By Christine Harris – It's 1928 and the Australian waterfront has come to a standstill. There's a strike! And George Dobson knows that when his father is arrested, the whole family will end up paying. Workers have rights, but the battle lines are drawn and it's the bosses against scabs … What happens when, suddenly on a matter of principle, your enemy turns out to be someone you've been calling a friend?
F LAW The Push by Julia Lawrinson
Most of us will remember that teenage feeling of utter boredom – that nothing exciting ever happens in – insert name of home town. Erica feels just such ennui in 1950s Sydney. She's stuck in a boring office job, with a boring boyfriend and with pressure from her mother to marry and bear children. Then she sees Johnno on the street in Kings Cross – and finds herself gradually taken into the group "The Push". They have no regard for the rules of society – for marriage, careers, etc. They sit in the pub and discuss politics. Erica is completely taken in by their freedom and the excitement of their lifestyle. Of course, she soon discovers not everything is as rosy as it seems on the exterior and, when she tries to go back to her old life, that it isn't there for her either. Erica looks forward to what might be out there after "The Push", but Johnno and its other members are convinced their utopia will last forever. I found the longing in this book really engaging – the way Lawrinson conjures up that feeling of youthful uncertainty.
994.31 LUN Over the Top With Jim by Hugh Lunn
"You couldn't get much further away from international politics than to be a child in Brisbane in 1951 but, although I was only nine years old, I knew enough to know that you just don't get Russians called James".
And so it is that Hugh Lunn, already instilled with fear and loathing of the Black and Yellow Terrors, finds himself face to face with the Red Terror, in the form of nine-year-old Russian Jim Egoroff. What follows is the humorous account of growing up in a working-class family in 1950s Australia – a story of boyhood friendship and adventure.
F MCG Last Drinks by Andrew McGahan
Crime thriller based in Brisbane at the time of the Whisky a GoGo bombing.
In Town, James Roy uses the short story to explore the lives of the young residents of an Australian town. This town doesn't have a name. But if it seems familiar, it's because we recognise the people who walk its streets. Thirteen linked short stories, spanning a year in the lives of thirteen young people, from a town near you.
F MAR The Piper's Son by Melina Marchetta
A raw, compelling novel about a family's hard-won healing on the other side of trauma. After his favorite uncle was blown to bits on his way to work in a foreign city, Tom watched his family implode. He quit school and turned his back on his music and everyone that mattered, including the girl he can't forget. Shooting for oblivion, he's hit rock bottom, forced to live with his single, pregnant aunt, work at the Union pub with his former friends, and reckon with his grieving, alcoholic father. Tom's in no shape to mend what's broken. But what if no one else is either? An unflinching look at family, forgiveness, and the fierce inner workings of love and friendship, The Piper's Son redefines what it means to go home again.
Australia Days – building identity on masculine foundations by Brendan Lee
Aussie Battler in crisis? Shifting constructions of white Australian masculinity and national identity (This is a long article – 18 pages, however it's worth reading or skimming to help gain a perception of how the stereotype of 'Aussie battlers' refers almost entirely to white males. Is that perception changing?)
An Absolutely Ordinary Rainbow – by Les Murray (poem)
ABORIGINAL LIFE AND SOCIAL CONDITIONS (Colonial Period):
F FRE Nanberry: Black Brother White by Jackie French
It's 1789, and as the new colony in Sydney Cove is established, Surgeon John White defies convention and adopts Nanberry, an Aboriginal boy, to raise as his son. Nanberry is clever and uses his unique gifts as an interpreter to bridge the two worlds he lives in. With his white brother, Andrew, he witnesses the struggles of the colonists to keep their precarious grip on a hostile wilderness. And yet he is haunted by the memories of the Cadigal warriors who will one day come to claim him as one of their own. This true story follows the brothers as they make their way in the world – one as a sailor, serving in the Royal Navy, the other a hero of the Battle of Waterloo. No less incredible is the enduring love between the gentleman surgeon and the convict girl, saved from the death penalty, to become a great lady in her own right.
F SCO That Deadman Dance by Kim Scott
Set in the first decades of the 19th century in the area around what is now Albany, Western Australia, the book explores the early contact between the Aboriginal Noongar people and the first European settlers. The novel's hero is a young Noongar man named Bobby Wabalanginy. Clever, resourceful and eager to please, Bobby befriends the new arrivals, joining them hunting whales, tilling the land, exploring the hinterland and establishing the fledgling colony. But slowly – by design and by accident – things begin to change. Not everyone is happy with how the colony is developing. Stock mysteriously start to disappear; crops are destroyed; there are "accidents" and injuries on both sides. As the Europeans impose ever stricter rules and regulations in order to keep the peace, Bobby's Elders decide they must respond in kind. A friend to everyone, Bobby is forced to take sides: he must choose between the old world and the new, his ancestors and his new friends. Inexorably, he is drawn into a series of events that will forever change not just the colony but the future of Australia.
ABORIGINAL LIFE AND SOCIAL CONDITIONS (Modern Period):
Oodgeroo Noonuccal (poems) – many of Oodgeroo's poems are found on this site, some of which are linked below:
Aboriginal Australia by Jack Davis
Shame by Kevin Gilbert (as well as many other poems)
Beds Are Burning (song)
First-born by Jack Davis (poem); The Black Tracker by Jack Davis (poem); Integration by Jack Davis (poem) IN 820.8 MAC Macquarie Pen Anthology of Australian Literature p. 622 – 626
Redfern by Kevin Gilbert (poem)
Me and Jackomari Talkin' About Landrights by Kevin Gilbert (poem)
Song of Dreamtime by Kevin Gilbert (poem)
Aboriginal Cricketer by Les A. Murray
IN 820.8 MAC Macquarie Pen Anthology of Australian Literature p. 808 – 809, 811
305.8994 PIL Rabbit-Proof Fence by Doris Pilkington Garimara
994.104 PIL Home to Mother by Doris Pilkington Garimara
Took the Children Away by Archie Roach (song) http://www.lyricsmania.com/took_the_children_away_lyrics_archie_roach.html
Gurindji Petition to Lord Casey, Governor General by Vincent Linguiri 
305.8994 DEA Some Signposts From Dagaragu: The Inaugural Vincent Lingiari Memorial Lecture by Sir William Deane
From Little Things Big Things Grow by Paul Kelly & Kev Carmody (song) http://www.lyricsmode.com/lyrics/p/paul_kelly/from_little_things_big_things_grow.html
For I Come – Death in Custody by Lionel Fogarty (poem)
F GAR The Fringe Dwellers by Nene Gare
This is the story of two half-caste aboriginal sisters, Noonah and Trilby. Noonah accepts her position as a dweller on the fringe of Australian society but Trilby refuses to.
305.89915 MOR My Place by Sally Morgan
Looking at the views and experiences of three generations of indigenous Australians, this autobiography unearths political and societal issues contained within Australia's indigenous culture. Sally Morgan traveled to her grandmother's mother and grandmother, allowing them to tell their own stories.
(see separate page for Aboriginal literature)
MIGRANT AUSTRALIANS:
F TAN The Arrival by Shaun Tan (graphic novel)
In a heartbreaking parting, a man gives his wife and daughter a last kiss and boards a steamship to cross the ocean. He's embarking on the most painful yet important journey of his life – he's leaving home to build a better future for his family. Shaun Tan evokes universal aspects of an immigrant's experience through a singular work of the imagination. He does so using brilliantly clear and mesmerizing images. Because the main character can't communicate in words, the book forgoes them too. But while the reader experiences the main character's isolation, he also shares his ultimate joy.
Migrant Hostel by Peter Skrzynecki (poem)
The Polish Immigrant by Peter Skrzynecki (poem)
Sailing to Australia by Peter Skrzynecki (poem)
The Ungrateful Immigrant by Ouyang Yu (poem)
Post-colonial by Adam Aitken (poem)
The Boat by Nam Le (a short story told in image, text and sound – very innovative!)
F CHE New Gold Mountain: The Diary of Shu Cheong by Christopher Cheng
Through the eyes of a Chinese boy Shu Cheong, we hear the story of life on the goldfields for the Chinese miners. Set in the years 1860-61 at Lambing Flat (Now called Young in NSW) the Chinese miners are successfully working hard to extract the precious metal but they have a different way of life to the other miners and they speak a different language and they mine very differently, often at sites other miners have abandoned. This causes much antagonism towards the Chinese miners and soon riots erupt.
F CHE The Melting Pot: The Diary of Chek Chee by Christopher Cheng
It is 1903 and the colonies of Australia have just united as a federation under one flag. One of the first acts of the new parliament is the Immigration Restriction Act (the White Australia Policy) that restricted entry of certain types of people to Australia. Melting Pot is the diary of Chek Chee, a Chinese boy living in Sydney's Chinese community. He is the son of a mixed marriage, trying to fit into two cultures. And for Chek Chee, life is unusually different. Not only are the Chinese about to suffer the threats and racism imposed by the new immigration policy, but Chek Chee must face being an outsider amongst the Chinese as well, as his mother is a white Australian – racism on multiple levels.
F ABD Does My Head Look Big in This? by Randa Abdel-Fatta
When sixteen-year-old Amal decides to wear the hijab full-time, her entire world changes, all because of a piece of cloth…Sixteen-year-old Amal makes the decision to start wearing the hijab full- time and everyone has a reaction. Her parents, her teachers, her friends, people on the street. But she stands by her decision to embrace her faith and all that it is, even if it does make her a little different from everyone else.Can she handle the taunts of "towel head," the prejudice of her classmates, and still attract the cutest boy in school? Brilliantly funny and poignant, Randa Abdel-Fattah's debut novel will strike a chord in all teenage readers, no matter what their beliefs.
F ABD Ten Things I Hate About Me by Randa Abdel-Fatta
Ten Things is about Jamie, a teenage girl from Sydney's south west who lives two lives: at school and in the outside world she is 'Jamie', a bottle-blonde with an apparently Anglo Aussie background; at home she is 'Jamilah' a Lebanese-Muslim who is proud of her cultural identity. Jamie struggles to maintain her two personas as the rules of her over-protective father collide with the normal adolescence she perceives other teenagers to have and which she so desires.
Life appears to be looking up for Jamie when the most popular boy in school begins to show an interest in her. Added to that she gets an after-school job and makes an email friend, John, the only person with whom she can be completely honest. However her fate as a social outcast appears sealed when her father's Stone Age Charter of Curfew Rights threatens to prevent her attending the much-anticipated Year 10 formal and her Arabic band is hired to play at the formal.
There are many more resources on the page 'Asian Literature'.

AUSTRALIANS AT WAR:
I Was Only 19 (song) http://www.metrolyrics.com/i-was-only-19-a-walk-in-the-light-green-lyrics-redgum.html
Remembrance Day Speech by Paul Keating, Prime Minister at the funeral service of the Unknown Australian Soldier, 11 November 1993.
Beach Burial by Kenneth Slessor (poem)
Smalltown Memorials by Geoff Page (poem)
Homecoming by Bruce Dawe (poem)
940.4 HIL Soldier Boy by Anthony Hill On 28th June 1915, young James Martin sailed from Melbourne on the troopship Berrima, bound ultimately for Gallipoli. He was just 14 years old. This is Jim's extraordinary story of how an inexperienced & enthusiastic school boy became Australia's youngest Anzac.
F MET Johnny Hart's Heroes by David Metzenthen
F RUS When the Hipchicks Went to War by Pamela Rushby
The sixties are in full swing and going to a war is the last thing on Kathy's mind.
For sixteen-year-old Kathy, it's all about miniskirts, the Beatles, discos and her fab new boots! The world is rapidly changing, her brother is fighting in the Vietnam War and her best friend is protesting against it. Kathy simply wants to live life and experience a world beyond her suburban existence. So when the chance comes for her to dance with an entertainment troop in Vietnam, she slips on her boots, walks away from her convent school and heads off to war. But Kathy soon finds the reality of war is no song and dance. This go-go girl will never be the same again.
ICONIC AUSTRALIA:
I Am Australian (song)
I Still Call Australia Home (song)
True Blue by John Williamson(song)
Working Class Man (song)
The Surfer by Judith Wright (poem)
The Jerilderie Letter by Ned Kelly