The Sapphires
"1968 was the year the planet went haywire. All around the globe, there were riots and revolution in the streets. There were hard drugs, soft drugs, free love and psychedelic music. There was the shock of Martin Luther King and Bobby Kennedy's assassinations.
And dominating every other news story… There was Vietnam.
For four gorgeous young women from a remote Aboriginal mission, 1968 was the year that changed their lives forever. Sisters Gail, Julie and Cynthia, together with their cousin Kay, are discovered by Dave, a down-on-his-luck Irish musician with attitude, a taste for Irish whiskey and an ear for soul music. Dave steers the girls away from their country and western origins then flies them to the war-zones of South Vietnam, where they sing soul classics for the American Marines. On tour in the Mekong Delta, the girls sing up a storm, dodge bullets… And fall in love.
Inspired by a true story, THE SAPPHIRES is a triumphant celebration of youth, courage, love, family and soul music." (The Sapphires Press Kit.)
……..
"The Sapphires was inspired by a true story about four indigenous women: sisters Laurel Robinson and Lois Peeler and their cousins Beverley Briggs and Naomi Mayers. These four Yorta Yorta women, born along the Murray River, were part of an extended family who regularly sang together in their community during the 1960s and 1970s. They toured Vietnam in the late 1960s, singing to American troops during the prolonged Vietnam War. All four women still live in Australia, working tirelessly for indigenous peoples' rights." (ATOM)
The resources below may be helpful to help you complete your assignment. Some issues to think about:
In 1962, the Menzies Government (1949-1966) amended the Commonwealth Electoral Act 1918 to enable all Indigenous Australians to enroll to vote in Australian federal elections. In 1965, Queensland became the last state to remove restrictions on Indigenous voting in state elections. (Wikipedia)
Despite not being eligible to vote, Aboriginal people still fought in the First and Second World Wars.
In real life, one of the Sapphires had to get parental permission to leave Australia because she was under 21 years old.
Two of the original Sapphires refused to sing for the troops because they did not believe Australia should be taking part in the Vietnam War.
Library Resources:
DVD0874 – The Sapphires
791.43 THO – The Sapphires screenplay by Tony Briggs and Keith Thompson
Internet Resources:
ACMI – The Sapphires Education Resource
Bellevue Theatre Teachers' Notes for The Sapphires
The Press Kit, Australia at Cannes – The Sapphires
Screen Australia Study Guide for The Sapphires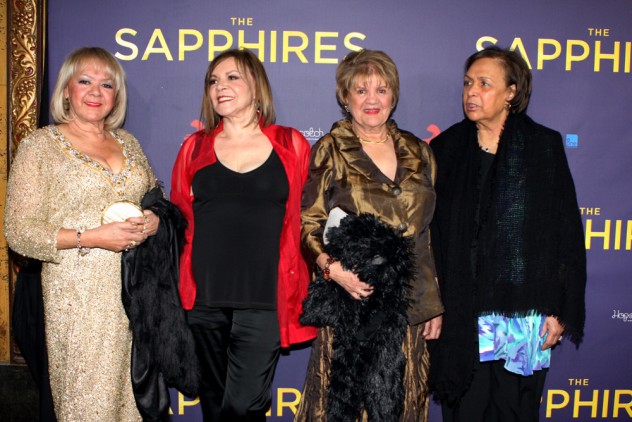 The true story behind The Sapphires:
The story of the real Sapphires – Part 1, Part 2
Racism at the time of the real Sapphires
Voting rights for Aboriginal peoples
"The next journey for us now within filmmaking – within our storytelling – is to show the sense of humour that us blackfellas have in spades."