World War I
The following page has been created to add to Year 9 History class materials already in use at Aquinas College.
Library resources:
The Aquinas Library has many resources on World War I. Use the following search term: WORLD WAR, 1914 – 1918  Print resources are found at 940.3 – 940.4
Some films that you may find useful are:
The Great War – DVD0139
Australians at War – DVD0772
1914 – 18 – DVD0708
Catastrophe – DVD0687
Gallipoli and the ANZACS – DVD0620
Gallipoli: The Frontline Experience – DVD0191
In their footsteps – DVD0800
1914: Killing Fields – DVD0705
The Lighthorsemen – DVD0273
Gallipoli – DVD0094
Websites:
World War I:
World War I (History on the Net)
Causes of WWI:
Causes of World War I – the assassination of Franz Ferdinand I  (Part 1  & Part 2  and Part 3
deal with previous causes of the war – )
Gallipoli:
Gallipoli: the first day (ABC) – covers events on the first day and the following eight-month-long campaign. Includes  videos, timeline, eyewitness accounts, commentaries and an overview.
Teachers' notes on Gallipoli: the first day
Gallipoli and the ANZACS (Australian Government)
There are a number of valuable documents found on the Australian Government's ANZAC site.
Gallipoli and the ANZACS (Department of Veterans' Affairs)
Understanding ANZAC Day – past, present, future – 18p. worksheet (Aust. Gov.)
The Trenches:
The following original film clip is a rare glimpse into what life was like on the front during World War I.

The trenches
Life on the Front Line (BBC)
What was it like in a World War One trench? (BBC)
What was war like in the trenches? This film shows us:

The Western Front:
ANZACS on the Western Front – this film uses original footage of the war on the Western Front, supplemented by voices of diggers who served on the Western Front.

Australians on the Western Front (Australian Government)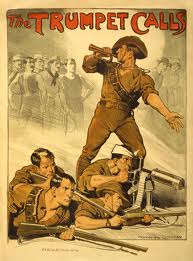 Attitudes towards WWI – propaganda posters:
WWI Propaganda (SLV)
Australian WWI Propaganda Posters 
Conscription:
Arguments over conscription (SLV)
World War I and Australia (SLNSW)
Gallipoli and the national identity (17 page PDF worksheet including lots of primary materials – maps, posters etc.)
Teachers: