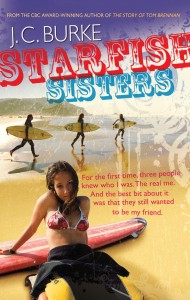 Georgia, Ace, Micki and Kia are all passionate surfers and are good at what they do. Although have the same interests they are not particularly close to begin with. After being thrown together at surf camp, this group of girls deal with jealously, secrets and lies. Their lives are then filled with nothing more than drama. If you like juicy, action filled books, Starfish Sisters is the book for you!
Georgie loves surfing but over the past months she doesn't have the same enthusiasm anymore. She's a great surfer but over time the pressure of being great at something starts to get to her.
Ace is an excellent surfer and was thrilled to be selected into the elite surfing competition but that's not what's she focused on. Her main concern is her relationship with her boyfriend Tim. Kia is Georgie's best friend and once the drama begins it hits her the hardest. These four girls are put together in a starfish cabin and form an uneasy friendship. This book is filled with drama and questions and is a great read. The main focus is about surfing but anyone could have easily connected with the book with any sport as it was written in a way that the targeted audience could relate to.
Chanelle G., Year 8